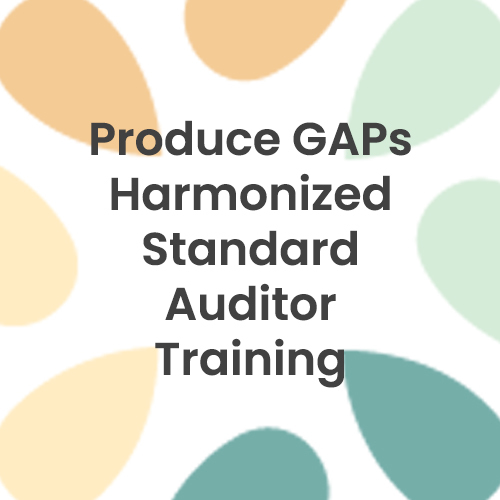 For over 10 years, the Produce GAPs Harmonized Standard audit program has been popular among small and large growers alike of all produce commodities due to its food safety focus and flexible, risk-based requirements. This training will feature the official training materials developed by the Harmonized Standard Calibration Committee, designed to standardize food safety auditors' use and expectations of the Harmonized Standard.
This training is open to all audit organization members, growers, packers, and other interested parties currently using the Harmonized Standards. Over the course of four half days online, the training will cover the details of what an auditor should expect to see at an operation, how an auditor evaluates an operation based on the evidence they observe, and how evaluations may change based on different scenarios.
Spaces are limited, so sign up quickly for this great opportunity to learn in a virtual environment with farm-based scenarios to support understanding and interpretation of the standard.
Information about the Harmonized Standard, including downloadable versions of the Field Operations and Harvesting, Post-harvest Operations, and Combined Standards, is available at: https://www.freshproduce.com/resources/food-safety/produce-gaps-harmonized-audit-standard/.
Pricing per person:

Members: $495
Non-Members: $695

Once you've registered, you can use the link at the button below to add these events to your calendar:
Who should attend:
Primary: 3rd party auditors who plan to audit to the Harmonized Standard
Secondary: Extension educators, consultants, fresh produce growers who want to operate to the Harmonized Standard, and anyone else interested in learning about the Harmonized Standard.
Key:

Complete

Next

Failed

Available

Locked
Cancellation Policy: Cancellations must be submitted no later than two weeks prior to the start date of the training to be issued a refund, less a $75 cancellation fee. Cancellations made less than two weeks from the start date of the course will not be issued a refund. Company substitutions are acceptable.

Staff Contact:
Katie McGowan, kmcgowan@freshproduce.com, (202) 303-3402
Additional Requirements: Because of the interactive nature of this virtual workshop, participants must have working cameras and microphones.
Your instructors for this course:
Gretchen Wall, Director of Food Safety & Quality, International Fresh Produce Association
Rebecca Anderson, Technical Manager, GLOBALG.A.P. North America
Jennifer Dougherty, GAPs Program Team Lead, USDA-AMS
Wes Kline, Rutgers, Agricultural Agent, Cumberland County - New Jersey
Steve Warshawer, Enterprise Development Manager, La Montanita COOP Billy Mitchell, Farm Manager, Working Farms Fund
Billy Mitchell, Farms Manager, Working Farms Fund
Chip Simmons, Area Specialized Agent, NC State University, Department of Horticultural Sciences