Listeria Management for the Produce Industry Certificate Program - January 2023
Listeria Management for the Produce Industry Certificate Program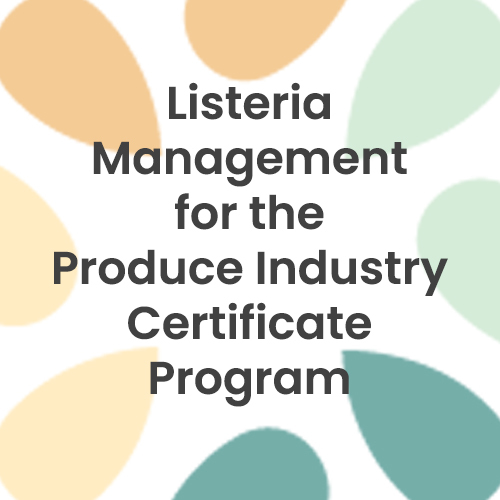 This Program begins January 17, 2023.

Registration opens on December 1, 2022, and is capped at 18 students to create an optimal student/trainer ratio.
The control of Listeria monocytogenes in fresh produce packinghouses and fresh-cut processing facilities remains a key challenge for the industry, and it is subsequently one of the leading subject areas where members seek individual support from the IFPA Food Safety team.
This program, developed in partnership with AFDO and Food Safety CTS, supports produce operations in understanding the technical, regulatory, and operational challenges associated with this environmental pathogen. This program is designed as a cohort experience to provide an expanded learning environment which will promote critical thinking, engaged problem solving, and peer-to-peer coaching. The course is made up of eight online modules and four live-online sessions (dates below).
Event Dates/Times:
Live-Online Sessions:
Jan. 25- 1-2:30 pm ET
Feb. 8- 1-2:30 pm ET
Feb. 22- 1-2:30 pm ET
March 8- 1-2:30 pm ET
Module Dates:
Week 1: Module #1: Introduction and Background of Listeria
Week 2: Module #2: Listeria in the Growing Environment & Live Online Session #1
Week 3: Module #3: Packinghouse and Fresh Cut Vulnerabilities
Week 4: Module #4: Evaluating Sanitary Design and Processes & Live Online Session #2
Week 5: Module #5: Sanitation Program
Week 6: Module #6: Designing an Environmental Monitoring Plan (EMP) & Live Online Session #3
Week 7: Module #7: Response to Listeria Detection
Week 8: Module #8: Regulatory Action & Live Online Session #4
Trainers/Mentors:
Joan Rosen, JC Rosen Resources
Sergio Nieto-Montenegro, Food Safety Consulting & Training Solutions
Jennifer McEntire, International Fresh Produce Association
Who should attend:
Primary: Packing-House and Fresh-Cut employees, new to Listeria monocytogenes prevention and risk management.
Key:

Complete

Next

Failed

Available

Locked
Welcome, Listeria Certificate Program Registrants!
Thank You!