Building Diverse Talent Pools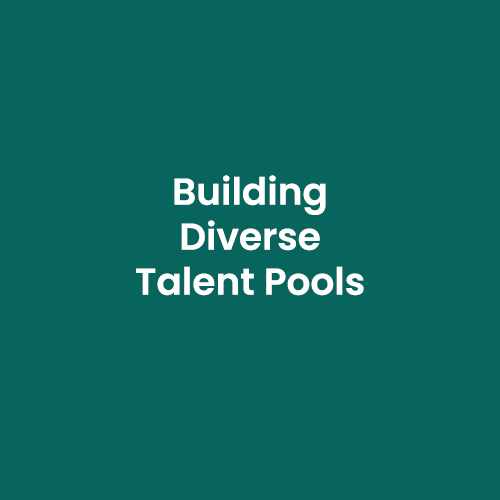 Your talent pool represents all of the potential candidates you can hire for a job. As the first step of the hiring process, it is the first critical indicator of whether your hiring process is inclusive. A diverse talent pool is one that encompasses the many potential candidates on the market who could successfully apply for a particular role at your organization and mitigates areas of bias that often prevent marginalized candidates from joining and staying in the talent pool. Without a diverse talent pool, you cannot interview a diverse array of candidates and hire those candidates to create a more inclusive and representative workforce. By eliminating bias in the hiring process, your organization can build a diverse talent pool and create the foundation for inclusion, from recruitment all the way through to retention and success.
In this course, you will establish what diversity and inclusion mean in relation to the hiring process and specifically how they connect to building diverse talent pools. You'll also evaluate your organization's sourcing methods for opportunities to establish more inclusive talent pipelines. You will then enhance your company's messaging to attract a diverse array of candidates and address sources of bias in the initial screening processes that your organization uses for early-stage job candidates. Finally, you'll explore different methods for measuring the effectiveness of your inclusion-based recruitment strategies. These methods will help you create an inclusion-centered approach to hiring that will broaden your talent pool and create more opportunities for your organization to hire candidates of marginalized identities and experiences.
Applies Toward the Following Certificates: DE&I: Building a Diverse Workforce

Key:

Complete

Next

Failed

Available

Locked
Thank You for Registering!
Please click CONFIRM REGISTRATION on the right for important information.
Please click CONFIRM REGISTRATION on the right for important information.